Few examples, why do we need Residential Asset Management?
We like share  few real examples that motivated to develop residential asset management applications.
A washroom wall has broken down and you noticed the walls are wet and contain mold due to a small leak in the shower faucet, unnoticed for several months. The drywall absorbed water and lost strength causing the wall to collapsed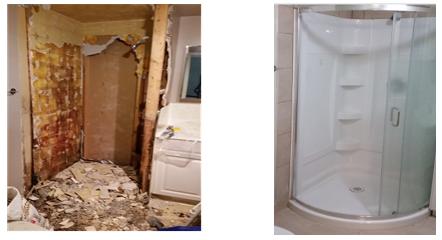 Figure: Lack of maintenance causing washroom wall to collapse due to faucet leak
If a regular PM/ inspection was completed, the water leak could have been prevented and easily fixed by replacing a new faucet which would cost approximately $100 to $150. For this case, the repairs costed approximately $5,000 and the washroom was unusable for two weeks causing an inconvenience for the residence of the home. As well as higher water bills due to the faucet leak for several months. This type of water damage is common under vanities and other water outlets; and can easily be detected and fixed.
A police officer suddenly stopped you, then gave you a ticket for $300. The car registration was due in May and you forgot to renew the registration because the province stopped the renewal notifications. In Alberta 46,468 tickets were issued in 2017 (source CBC News).
You work in an Oil and Gas company as a contractor. Suddenly you got a letter from the Alberta Registry that your business license was suspended because it was not renewed. You were not aware business registration required annual renewal and resulted in a $150 penalty.
This example is one of my friends.
Around midnight on December 24th, 2015; one of my friends noticed his house was extremely cold. The temperature outside was below -30 Degrees Celsius.  He noticed his furnace was not working and the furnace was made by Carrier, built in 1999 and installed in 2000. See the sequence of events:
The consequences and cost to back in operation: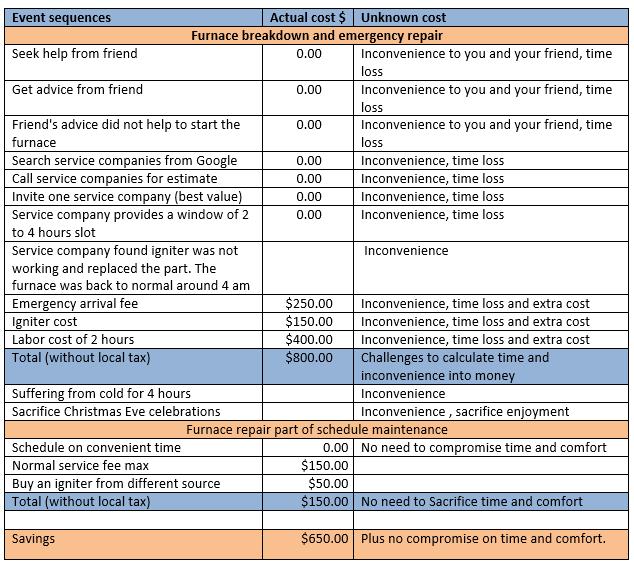 Considering all assets, a property can save thousands of dollars per year which he could have invested for other purposes.
I was visiting South Asia with my family in 2018. Suddenly, we visited a shop to see prescription glasses for me. The usual cost is approximately $600 per glass in Canada and insurance only covers up to $200. I bought two sets from South Asia and it costed me only $50 each which was fully covered by Canadian insurance. I saved $400 and got an extra pair for a significantly lower price. As I had access to my doctor's prescription, I was able to purchase the glasses in South Asia.
These examples provide why an effective asset management system should be established.